Yuval Tal – Managing Partner of Team8 Fintech, founder and former president of Payoneer
"Five years ago we celebrated a bar mitzvah for my son, and the camera crew said their dream was to shoot at the Burning Man Festival in Nevada. I said, 'I have a lot of frequent flyer points with United, let's fly there.' They didn't believe me at first, but we flew, and I came to the campus where they did acroyoga, which is a kind of combination of yoga and acrobatics. It seemed very complicated to me, but I was offered a try and we split into pairs. At first I hesitated. I didn't believe that anyone would trust me to be able to lift them, it seemed delusional to me. "
"There are situations in life where something finds you, that all of a sudden you say, 'Boom, that's what I want.' Acroyoga is a sport with a lot of psychological elements. There is the 'flyer', the acrobat, who is lifted, and there is the 'base', which is me. It's a job that is very similar to an entrepreneur or CEO, who is responsible for establishing, testing, preserving, and returning to the ground safely. It requires working on muscles you don't know you have, flexing again at an age when you have already given up flexibility. I would wait every morning for the acroyoga workshop to start. When we returned to Israel, I connected with this community here. "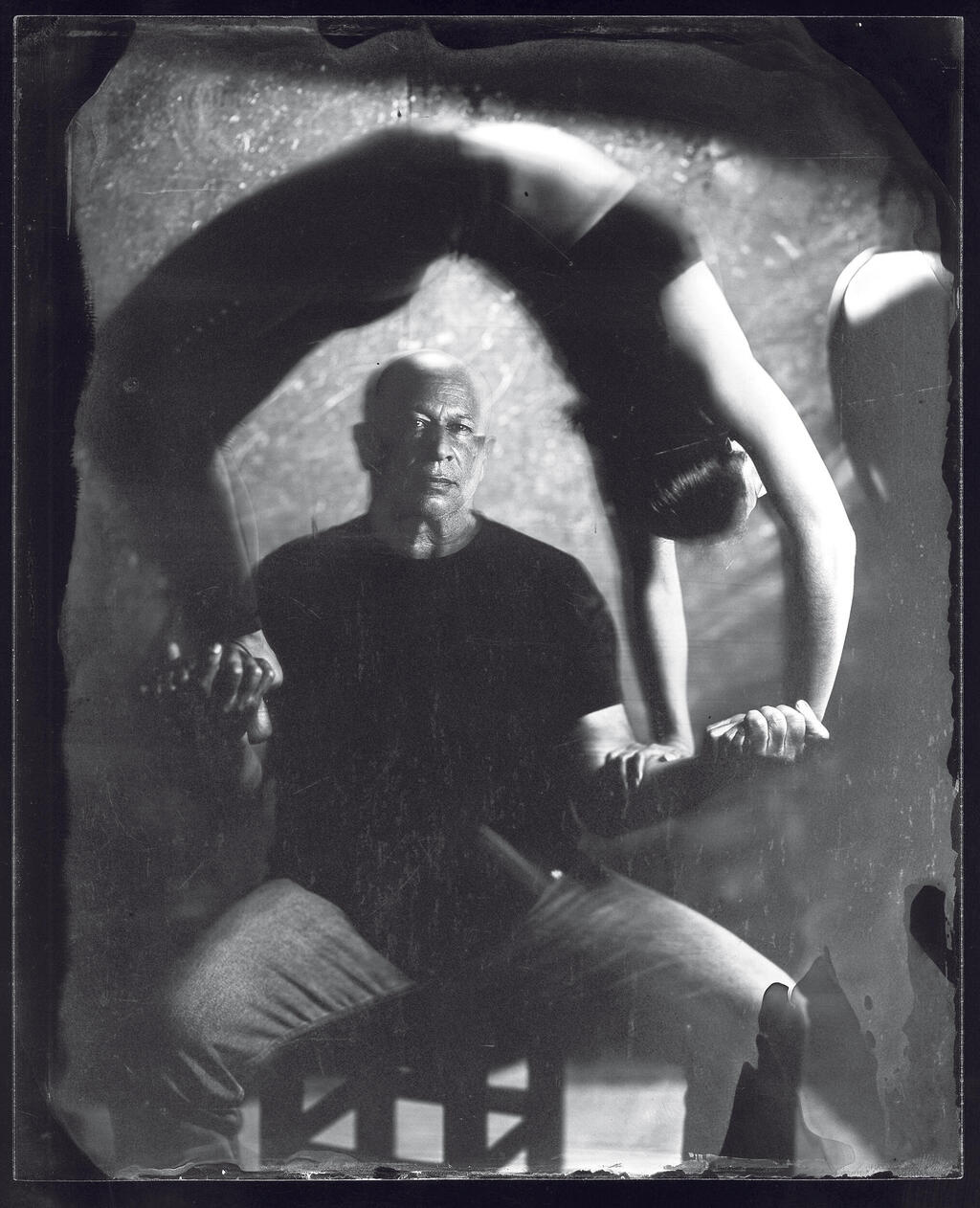 Is the feeling that you can still do it the addictive part?
"It's something about feeling like you're doing something you didn't think you could do anymore, and the improvement is already addictive. When you look at your parents' generation, age 50 is perceived as soup, television, and watching the 5pm news show, 'Erev Hadash.' And suddenly you do a handstand without using a wall for support and catch flips. "
There are exercises that are really thought exercises, in a second and a half you do about 300 actions, like origami that opens up all at once. When the flyer does a somersault – boom. From below you see something falling on you, and the more you practice it the slower it seems. It's advanced teamwork. "
Why aren't you the flyer? Why did you choose to be a base?
"I've been a flyer a few times and it scared me to death. I don't enjoy it. There are people who are unable to let go and be flyers, to hover. The whole idea that they are out of control paralyzes them. "When you are the base, you are the one who keeps your partner from falling. Between the two of you, as the base you have a much greater responsibility, you are like a parent."
It's an interesting analogy for a couples' sport.
"You're the protector, and I'm good at that. Knock on wood, no one has gotten hurt with me yet. I really enjoy catching flyers and producing them. How did Yossi Vardi put it to me when he was my boss – 'character is destiny'. "
Have you infected more people around you with your enthusiasm?
"When I first saw acroyoga I thought it was for gypsies who do it from an early age. Today I think anyone can. There's something wonderful about getting people to cross the psychological barrier and try it. Dozens of people have tried it with me, including the heads of the economy.So when I met Tamar Yassu (chairperson of Isracard), we brought in a guide and made videos that night.I am also still trying to convince Rakefet Russak Aminoach, my partner at Team8, to try it out . "
So, you've become a missionary.
"Anyone who practices acroyoga, especially those who are older, feels a missionary need to shout out to the rest of the world: 'Listen, you should give up watching movies on Netflix all the time. There is another world, cool, amazing, and uplifting. ' There is a mission in this sport. You start with a basic airplane exercise, like you do for kids, and the improvement graph is very steep, people don't believe how much. Then a 'hug' is created that is unique to acroyoga, because this sport creates trust with the gymnasts. Something in the connection of physicality, internationalism, creation of dance, acrobatics for the masses. It gives a feeling that there is no age, that age is not a parameter. "
You have compared the "base" to your roles in the business world. Does it also exist in your personal life?
"During Payoneer's growth stage my son had a judo test, an important event where you move up a grade. That evening a client in California announced he was leaving and we had to leave everything and go to him. Business-wise it worked out, but when I returned my son's disappointment was great. I did not come to my boy's ceremony and he felt betrayed. I saw the disappointment in his eyes. him fall. That's what he felt. "
Because the pressure of an early-stage start-up does not make it possible to compromise on anything?
"This thought pattern characterizes a lot of entrepreneurs. You have dozens of employees on your mind, you are not sure you have money to finance the company, it is still losing money, every day a customer may leave, the board is pressuring you, not all the employees you want to remain with the company, and this huge stress is present. at home too. You are not really there, you are sort of absent yet present, with your eyes darting in all directions. You try to be nice, say words that are logical, but you are not there, and it lasts for years.
That's how it was for me at Payoneer until the third round of funding. The financial uncertainty is very difficult, because you have no room for error. And there is no school for it, so everyone in that position faces new situations they were not familiar with. And you are constantly wrong, so you always feel guilty and stupid. "
So with your son, in that situation, you were the base that dropped the flyer?
"Every parent has memories of the day he let his child down, or he missed and did not understand something that was very important to him. I had to choose between my startup and my son, and in that situation it was clear it was the It's your identity, your life enterprise, it's everything. The world is full of people who started startups and failed. And to succeed, it's not that you're a prisoner to it, you're a prisoner of yourself. 't have ten chances like that in life, maybe two. You started something and you must succeed, no matter what. "
And how do you fix the relationship with the child?
"It seems to me that for every bad experience you need 10 good ones – and in the end, what can you do, they are stuck with us."
"What entrepreneurs' spouses experience is cruel. On the one hand they do not know what the company is doing, and on the other hand, because they are with the entrepreneur at home, they experience all the anxieties, panic and nerves, without shock. You also don't enjoy the glory, and you also see your partner get beaten and crushed from all directions, and you have to live with it. You have to respect your spouse at home. Light a candle for partners who are suffering from. all the stress. "
.