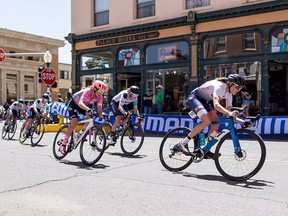 Content article
To take her road cycling to the next level, Emily Marcolini relinquished her bike and its many gears. She bought a track bike from Thomas Hums, a retired Sudbury track rider. She went from 24-plus gears to one.
Content article
Then she blasted her comfort zone wide open and rode the banked, slippery slopes of the velodrome at the Mattamy National Cycling Center in Milton.
This, she would remind herself, was going to help her on the road. This would help in the pack amid dozens of riders. This would help her on the climbs and in the sprint to the finish line.
And it has as the Sudbury-born cyclist has been producing results this spring that are better than they were three years ago.
Now riding for 3T / Q & M Cycling, a team based in Ann Arbor, Mich., Marcolini, 26, was third on Day 1 and won the second stage of the Redlands Bicycle Classic in April. She then took the leader's jersey, only to relinquish in on the fifth and final day. She retained her title as best climber. Then, in May, she was sixth overall in the Tour de Gila, winning Stage 5.
The fall training in Milton with the Ontario Cycling Association group benefited her bike handling and pack-riding skills, she says.
"Everything happens at 10 times the speed on the track so once you translate it out to the road it feels like everything has slowed down."
She reports no wipeouts on the track – or won't admit to any — but when she started, that first loop was nerve-wracking.
"Some of the guys in the training group are junior world champions in the points race and the scratch race. Very fast. But everybody has been super helpful and great in teaching me new skills. It's been a fantastic experience. "
She's equally enjoying her time with 3T / Q & M, with whom she connected in 2020 when the team was looking to create a women's division.
Content article
The team has a lot of new riders, some of whom entered their first-ever stage races this year.
"It was pretty impressive to see how well we were able to ride together as a team. There's a strong cohesiveness on this team. And everyone's willing to sacrifice themselves for the benefit of the team's overall goals. "
While the team is of the elite level on all the riding surfaces – from paved to trail and gravel – they're not a professional team. Most riders have full or part-time jobs, or are students, she says.
"Everyone is racing on that team because they love cycling, not because it's their job. I think that brings a level of enthusiasm to the team that sometimes you don't get in professional settings. For me that was refreshing to be with that group. "
Marcolini is currently riding full-time, as part of the ongoing story of a stellar athletic career.
After dabbling in various sports, her powerful legs and competitive nature led her to high school track and then Laurentian University's cross-country team. Ultimately, she switched schools to pursue her studies at Cambrian College.
In 2015, she won a bronze medal for Cambrian at the Canadian Collegiate Athletic Association cross-country running championships. She had been undefeated in all Ontario college races that fall. Marcolini graduated from Cambrian with a degree in chemical engineering technology.
Injuries ultimately ended her running career. Eventually, she found her way to her bike and by 2019, Marcolini had signed with TIBCO-Silicon Valley Bank, a UCI-registered women's professional team.
Content article
Unfortunately, she didn't meet their performance standards and her contract wasn't renewed for 2020. The pandemic may have come at a good time, although its blessings could be considered mixed.
She would work on contract for the Ontario government and was with Parks Ontario as a resource technician and park warden until the fall of 2021
The pandemic meant there was little for anyone to train for as event after event was canceled. In 2020 she actually signed with 3T / Q & M but only managed one race with them in 2021.
She feels she missed out on a few years of racing and potential results that might aid her selection to professional teams.
"Training would have been fine if I'd had motivation," she laughs. "It was a little bit lacking that department. Sometimes it's just as good to take a break. "
Now her life is back to racing and travel, much of it spent driving to events. She's also connecting with potential sponsors, professional teams for next year. She's eyeing trips to Europe and hopes to qualify for the world championships this fall in Australia.
This week she's back to her home in the Hamilton area and is volunteering this week at the Nations Cup, May 11-15 in Milton. She's also preparing for the Joe Martin Stage Race, May 19-22 in Arkansas.
Her goals are to score more points to improve her international (UCI) rankings and especially do well on the time trial days of stage races.
Her personal highlight is a tie between winning the last day of the Gila and the second stage of the Redlands Classic.
"I've never really won a bike race before until this year. To do it at that level was pretty special. "
Laura Young's Personal Best column runs regularly in The Sudbury Star.