As the rain fell Saturday morning in Columbia, the Hickman football team was forced off the field and into the wrestling gym.
There on the purple-and-gold mats, they contorted their bodies into different poses at the direction of Cynthia Chasteen, who has a doctoral degree in teaching and learning processes. Her voice attempted to overcome the metallic drum of the air conditioning overhead.
Chasteen is Hickman's yoga and mindfulness instructor, a role she first took on with the Kewpies in 2018.
She grew up as an athlete playing basketball, lifting weights and going on to play college soccer. After getting her doctorate, she became a Spanish teacher and is now an adjunct professor at MU.
Although she enjoys teaching, Chasteen didn't have any interest in yoga until she went to her first class when she was an athlete.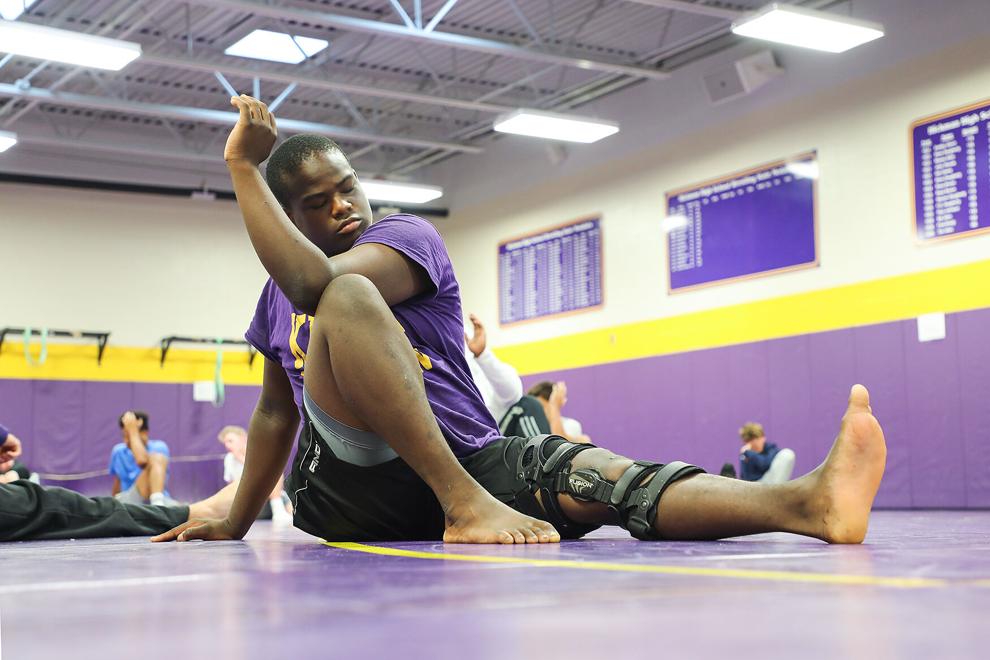 "I went to a hot yoga class because I was told it would help my mobility and I liked it, so I decided to study," Chasteen said. "I didn't have any intentions on teaching but then I had some friends who opened a studio and they coerced me into teaching."
She has now been teaching yoga for nine years and leads yoga sessions at three different studios in Columbia and one in Illinois. It was through these classes that she made a connection to the Kewpies.
"One of our (former) players' parents goes to her yoga studio and said she'd be happy to work with the boys," coach Cedric Alvis said. "So I reached out, and it all started from there."
"I enjoy working around young people and just trying to share some of the knowledge I've gained," Chasteen said.
Although that player whose parent introduced Chasteen to the Hickman program graduated, the Kewpies continue to have her lead sessions with the team. Saturday morning's session was her first with the team this season and possibly one of her biggest.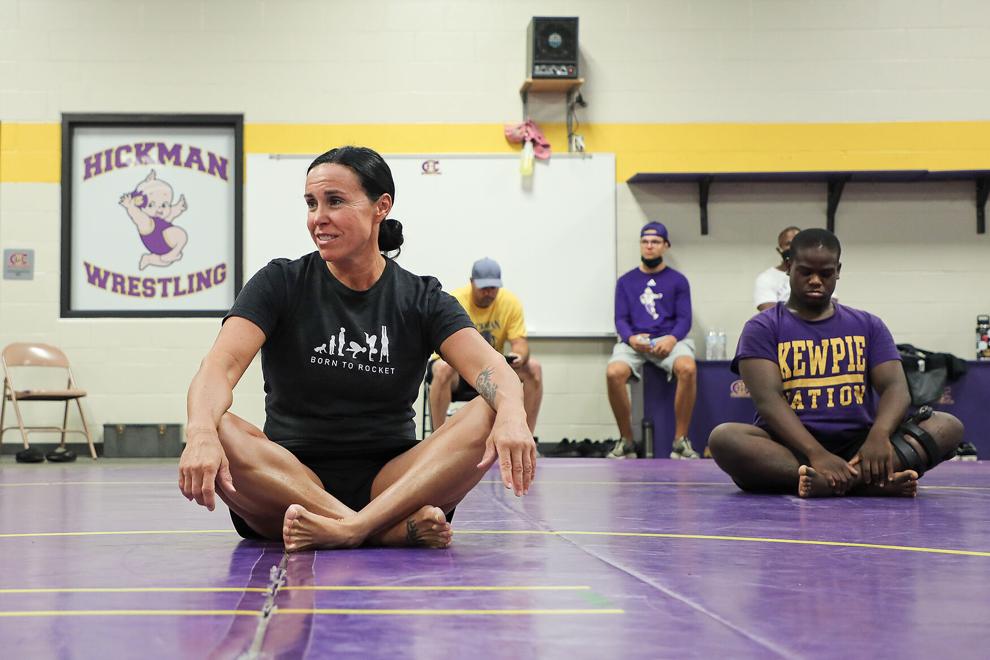 "I didn't work with the team last year because of COVID," Chasteen said. "I did the year before but I didn't have this many people. I think this was the whole team this time. "
Although yoga is a physical activity, when Chasteen works with Hickman players she wants them to take away more than just how the body moves.
"Breath is something that can be with you if you are feeling good or feeling bad," she said. "On the field whether you just made an interception or fumbled the ball, you can use the breath to bring you back to the moment."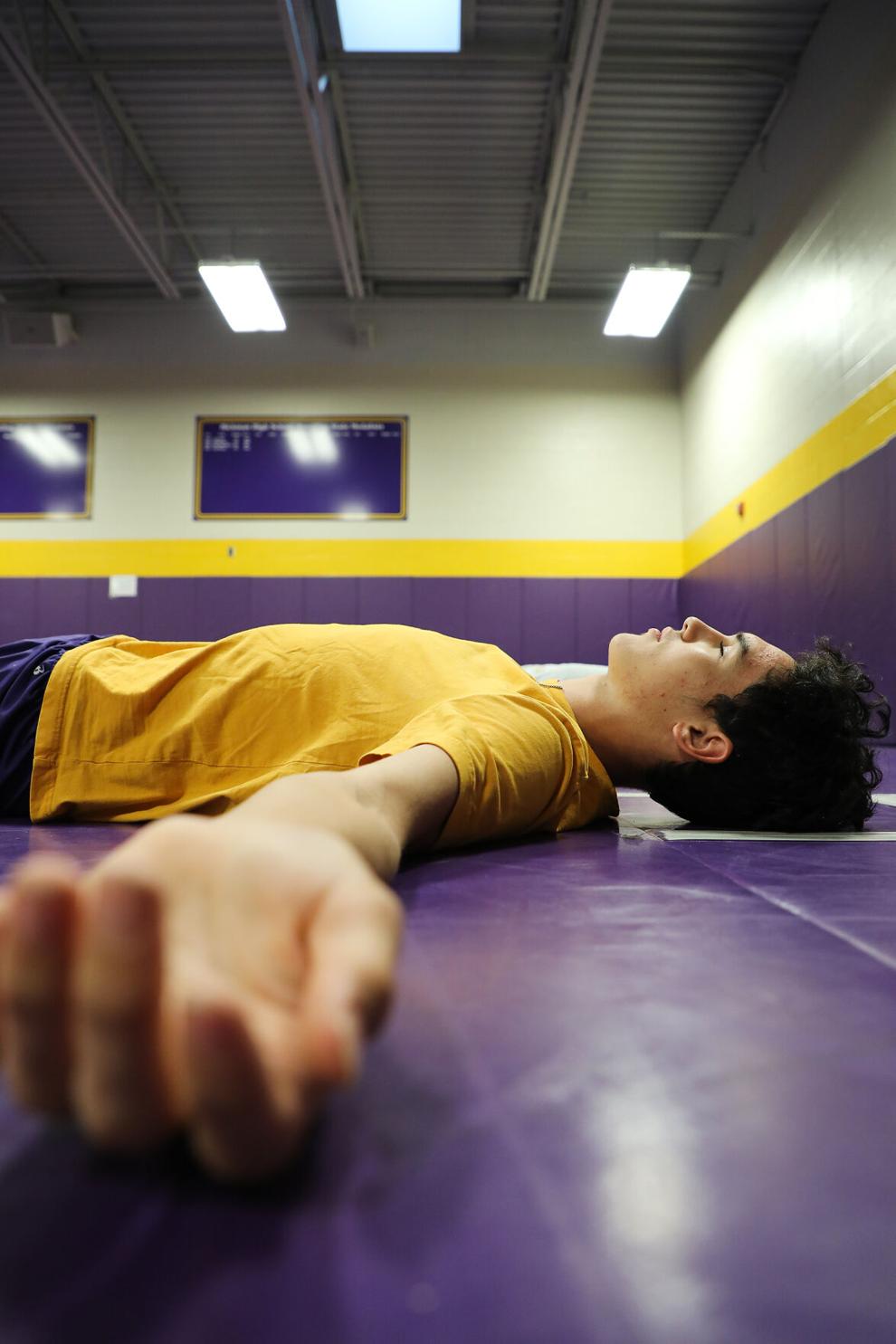 Alvis shares this sentiment. The coach has been trying to teach his team to focus on the mental aspects of the game and how it can reset after a bad play.
He hopes the practice of yoga can help improve the on-field results for the Kewpies, who have been outscored 86-6 in an 0-2 start.
"Concentrating on keeping our minds clear," Alvis said. "If we can keep our minds clear in this environment can we translate that to the football field?"
Kole Jackson, a senior on the team, enjoys the time he gets to focus while doing yoga.
"It helps us have a calm mind and prepare for the next game," Jackson said. "I think about what we can do better and what we can do every day to get there. Take away the big stuff and focus on the little stuff, what little stuff can we do better. "
"I find that it is a great complementary practice," Chasteen said. "I try to emphasize the benefits of developing mindfulness practice. Especially as a student-athlete for game day situations and the carryover for the rest of life. "
Even though they are not her focus, Chasteen knows how big the physical benefits of doing yoga can be.
"For athletes, yoga can be a practice that is used as recovery," she said. "They had their game last night, they're a little dinged up, let's do something nice and slow, or in the offseason it can be used for training."
The results speak for themselves.
"The first year we used her, it was the lowest amount of injuries we've had," Alvis said.
Since she started working with the Kewpies in 2018, Chasteen has started working with all sorts of sports teams. She has done work with Hickman track and a middle school volleyball team. She even helps introduce yoga to schools.
"Once my name kinda gets out there, I get tapped for different things," she said. "I have shared yoga with PE programs and I am always happy to help facilitate that."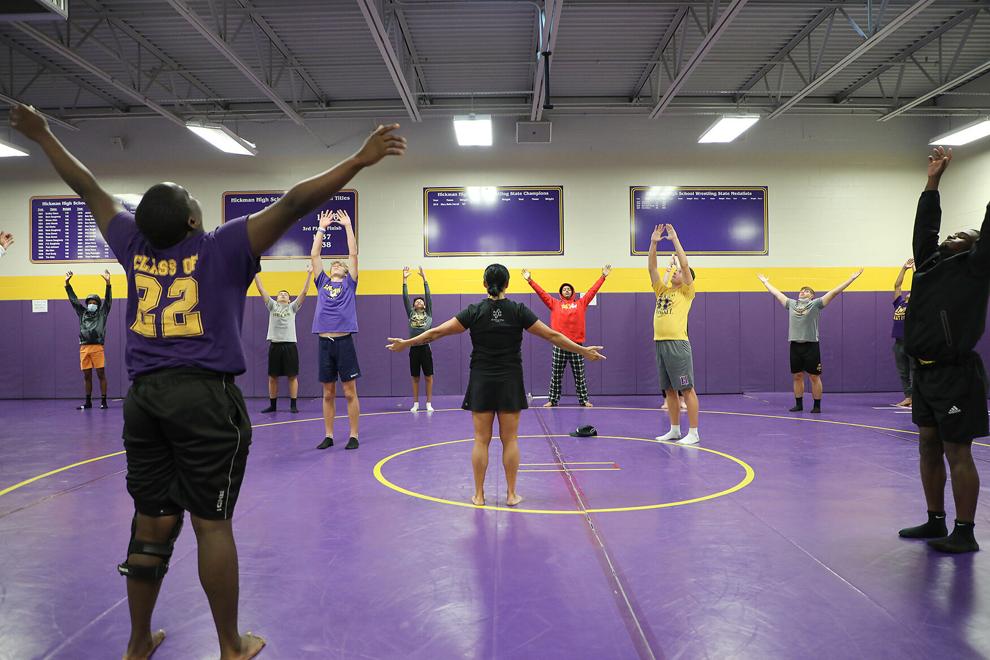 At the end of the day, Chasteen wants to help spread the knowledge that she gathers and the joy yoga brings her.
"My goal is to try and share more than the poses," she said.
.