Real talk: Northern Territory's Top End is so freaking beautiful, you might shed a tear when you land. The state's capital Darwin — whose traditional landowners are the Larrakia People, is home to sparkling azure waters, jaw-droppingly gorgeous national parks (packed with natural swimming pools and waterfalls) and a vibing — yet seriously underrated — foodie scene. Honestly, what more could you want from this Northern Territory gem?
While many of us make the trek to Uluru because — bucket list experience — we urge you to add on a few days to your vacay and head north, because Darwin is an absolute banger of a holiday destination. Haven't been before or just need a personal tour guide? No worries, here is the ultimate guide to Darwin.
When To Travel To Darwin
Straight up — Darwin is hot. She's got an average temp of 30 degrees all year round and yes, you're likely to get a bit sweaty. But trust us when we say it's absolutely worth the SUL (sweaty upper lip).
Up north, there are two distinct seasons — wet and dry. The latter runs from May to October with an average temp of 21 ° C to 30 ° C and an average humidity of around 20%. This season is perfect for bushwalking, hiking, swimming in waterfalls and camping.
The wet season covers the months of November to April and sees temps of around 25 ° C to 33 ° C with humidity levels of over 80%. Unsurprisingly the wet season can be incredibly wet, so expect tropical downpours. The upside? It leaves the area incredibly lush and the sunsets are truly breathtaking. Locals often say that although the dry season is popular with tourists, the wet season is when the Top End really comes alive.
The Best Things To Do In Darwin
Check Out Litchfield National Park
This truly stunning part of the NT has to be seen IRL to be believed. Home to cultural sites of the Marranuggu, Koongurrukun, Werat, and Warray Aboriginal people, Litchfield is a 90-minute drive from Darwin's center. Here you can float in lush swimming holes like Berry Springs — where the water is so clear you can see straight to the bottom — get a power shower underneath Florence Falls, and cool off at Bluey Rockhole. Stretch your legs on the Tabletop Track, a 39-kilometer track that will see you pass by Wangi Falls, Tjenya Falls and Walker Creek. And be sure to keep your eyes peeled for the magnetic termite mounds which are up to 100 years old and stand two meters high. If you'd rather have a tour guide, we loved the legends at Ethical Adventures, which includes transportation to and from, guides and delish meals.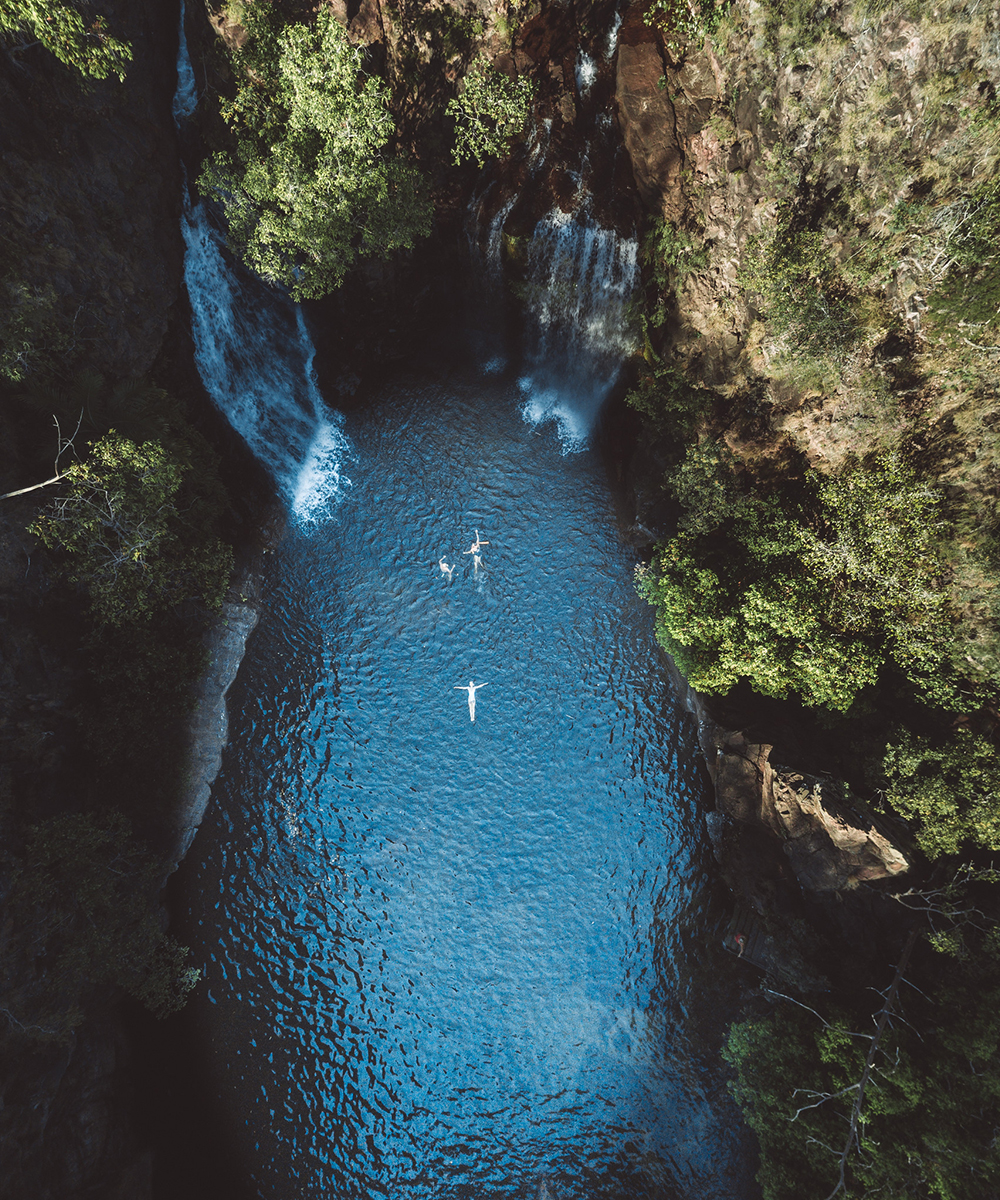 Scope Out Incredible Art
If you're keen to admire some incredible art during your trip to Darwin, you're in for a treat. While you'll find art galleries scattered throughout the city, a good place to start is the Museum and Art Gallery of the Northern Territory (MAGNT), a prize-winning public gallery showcasing the region's best works featuring everything from desert dot paintings and ceramics to carvings from the Tiwi Islands. Also worth a visit is Provenance Arts. While it is temporarily closed, the gallery, which is owned by Kunwinjku people of western Arnhem Land, features stunning works that you can gawk at and purchase.
Darwin is also home to vibing street art scenes. There are over 10 larger-than-life murals dotted around the city, and some are even interactive. You can do a self-guided tour right here.
Tip: If you happen to be in Darwin in August, be sure to check out the Darwin Art Fair, which brings art and artists from more than 40 communities to town.
Check Out The Darwin Street Art Festival
Taking place on Larrakia land, the Darwin Street Art Festival is an absolute must. As a mural festival that's been running every year since 2017, you'll find new street art emerging in Darwin's CBD (and the rest of the Territory for that matter) every August.
Hit Up Air Raid Arcade
This super cool space is accessible from Cavenagh Street and winds through the ever-funky Austin Lane. It's home to unique bars like the retro-themed Babylon and Renaissance-inspired Birth Of Venus as well as apparel shops like House Of Darwin, a for profit label that reinvests its profuts into remote Aboriginal communities.
Soak Up Sunshine And Tunes At Bass In The Grass
This epic music festival hits Mindil Beach every May and it's truly unmissable. The showdown as has seen the likes of Dope Melon, Dune Rats, G Flip, Hilltop Hoods, Hockey Day, Hot Dub Time Machine, Jessica Mauboy and Montaigne perform so done your best bucket hat, it's always a belter.
Support The Local Aboriginal Arts, Culture And Businesses
Learn about local Aboriginal traditions, stories and practices with Pudakul Aboriginal Cultural Tours which offer art sessions where you paint your own souvenirs and take immersive two-hour tours in the stunning wetland surrounds. You should also drop by Aboriginal Bush Traders, a cafe, gallery and shop all in one committed to selling ethically-sourced and sustainable products that directly support Indigenous communities. Make sure you walk away with their huge chocolate chip wattle-seed cookies too — they're bomb.
Road Trip To Kakadu
If you're heading to the Top End, carving out a day or two to see Kakadu — home of the Bininj / Mungguy People — is a no-brainer. At Australia's biggest national park (a three-hour drive from Darwin) you'll find waterfalls, rainforests, wetlands, wildlife and ancient rock art across 20,000 square kilometers. With a World Heritage Listing, the park is full of epic things to do. If you dare, cruise along the Yellow Water Billabong spotting crocs and the millions of migratory birds who call the park's wetlands home. There's also more than 5,000 Aboriginal rock art sites in the park, as well as gorges and waterfalls aplenty. Some must dos include: swimming at Maguk and Gunlom pools, catching the sunset at Ubirr and gazing at Jim Jim Falls.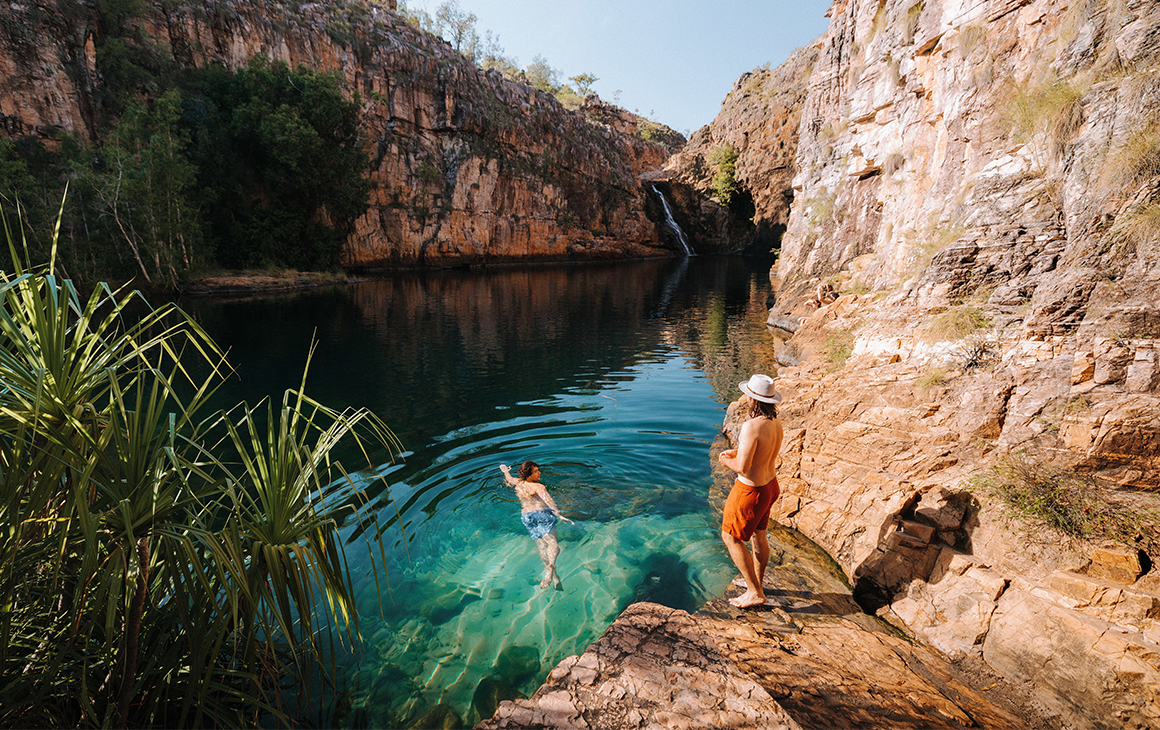 Eat Your Way Around Parap Village Markets
If you get lost on your way to the Parap Village Markets, just give the air a big old sniff and your nose will surely guide you the rest of the way. The markets, which come alive every Saturday from 8am to 2pm, are lined with food trucks and stalls, slinging authentic laksa, dumplings and satay chicken that will make you feel like you jumped on a plane OS. There's also a myriad of exotic fruit on offer plus Asian greens and herbs to fill your kitchen with. Keep following the winding line of stalls and you'll stumble upon local arts and crafts too — perfect for some souvenirs.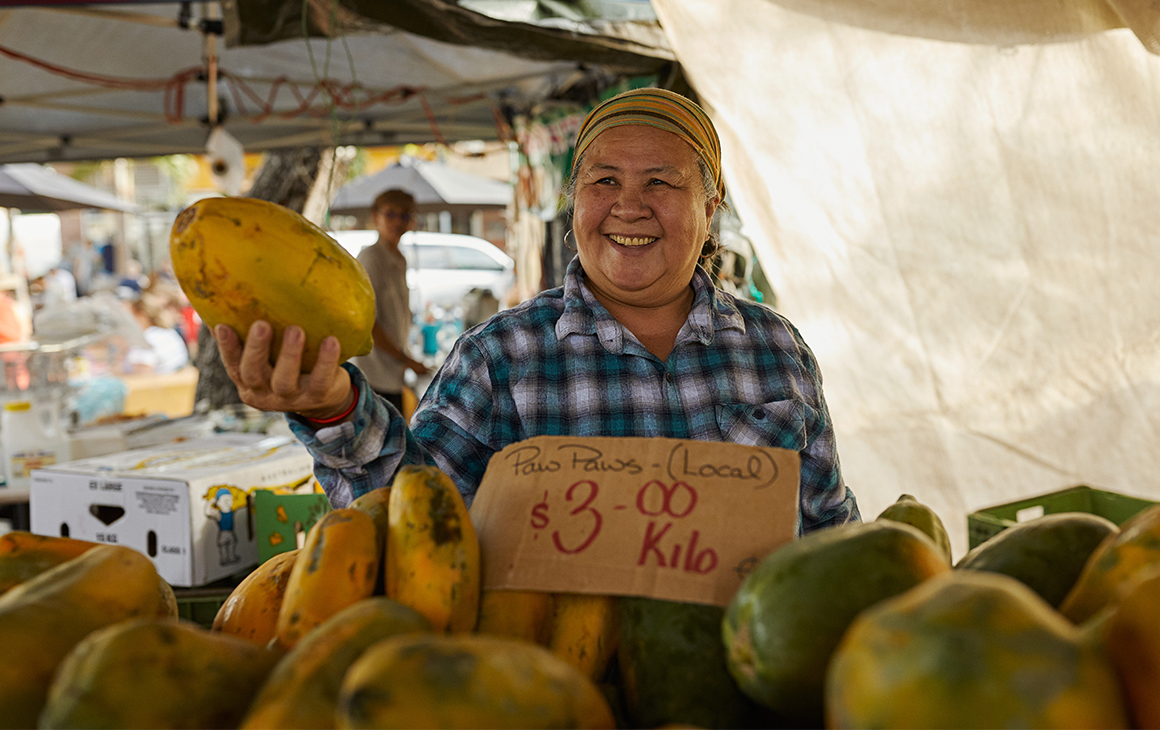 Do A Gourmet Foodie Tour
If you're a foodie who is often gripped by decision paralysis then you'll love it this gourmet foodie tour. You can choose between a lunch or dinner tour, each runs for three hours and will see you explore the city's richest cultural heritage at several of their best restaurants. You'll get to feast on loads of drool-worthy dishes, (tip: wear comfy pants) as well as scoring some locals' only knowledge along the way.
Sail To The Tiwi Islands
The Tiwi Islands are just a 30-minute charter flight from Darwin or a two and a half hour ferry ride — so put it on your must-see list stat. Nicknamed the 'Island Of Smiles' this unique slice of paradise is home to incredible Aboriginal culture, sugar white sand beaches, hidden escapes, breath-taking nature-scapes and wildlife (read: lots of crocs). For a full guide on how to enjoy the Tiwi Islands, head here.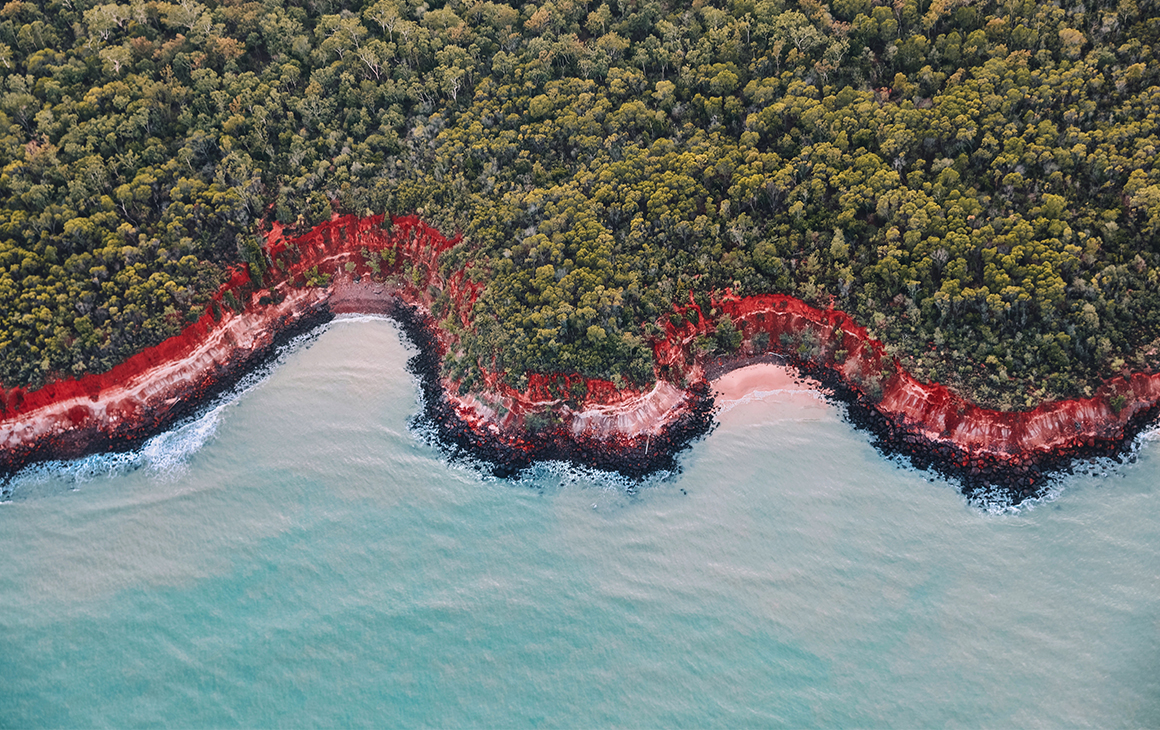 Delve Into Some Adventure And Wildlife
Okay, if there's one place in Australia to lap up a whole heap of adventure, it's right in the heart of Darwin. Take a jumping crocodile cruise on Adelaide River, head to Crocosaurus Cove in the CBD jump on a jet ski tour across Darwin Harbor or race a mate on an ATV buggy through the nearby Charles Darwin National Park with 00Seven Adventures.
The Best Restaurants And Cafes In Darwin
Phat Mango
With its ever-changing, seasonal menu, Phat Mango is all about celebrating native ingredients and Aussie flavors. Headed up by British chef Martin Bouchier, you'll find a diverse — and seriously delicious — range of eats on the menu, including 78 ° Gin cured spanish mackerel, peri peri fish wings (from the NT of course), smoked Humpty Doo barra bruschetta and roo tail bone hole. And trust us, they're all amazing.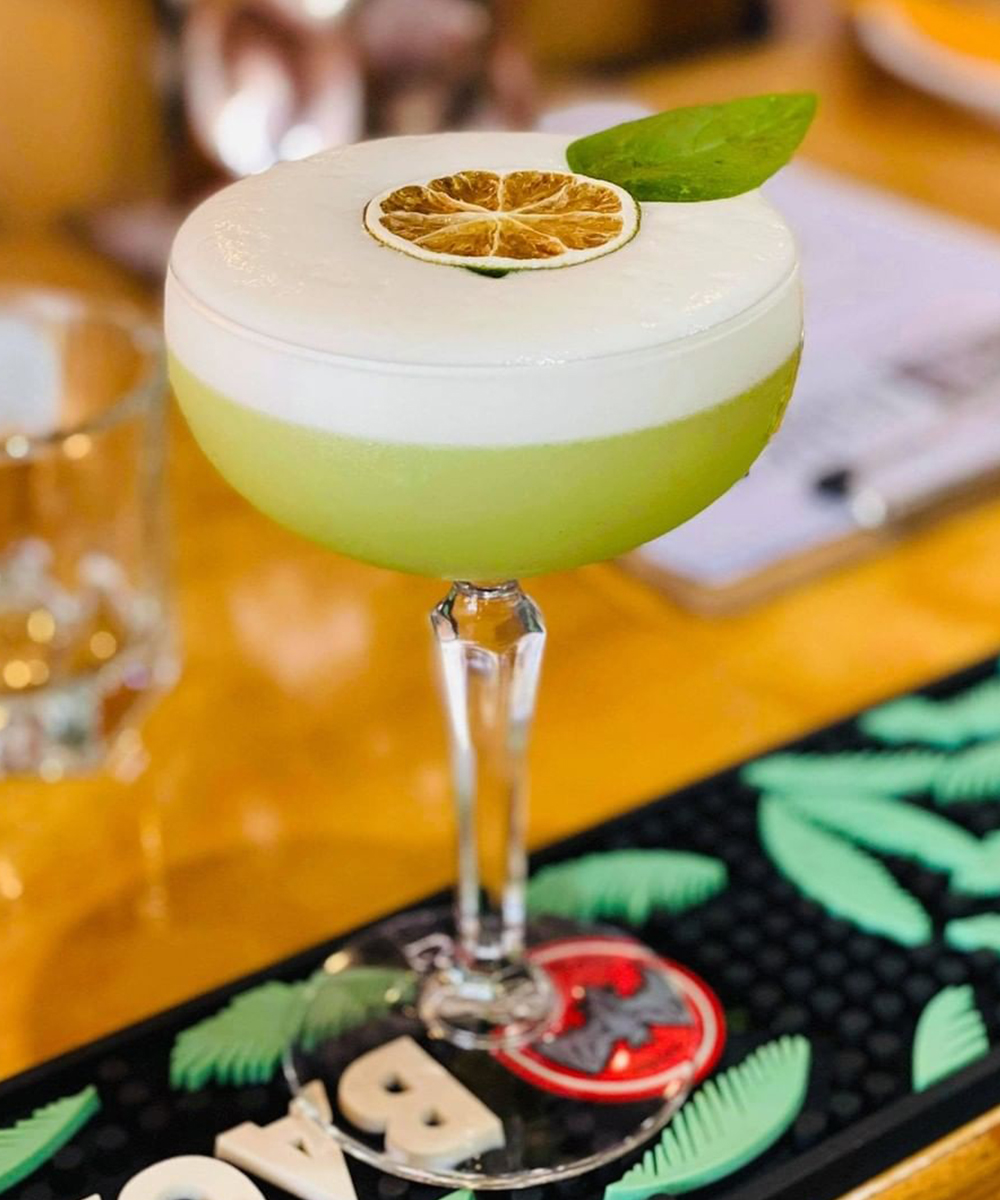 Little Miss Korea
Our mouths are watering just thinking about the tasty eats coming out of the Little Miss Korea kitchen. The Korean charcoal BBQ eatery offers a modern take on traditional eats, boasting memorable bites like KFC wings, Dollsot Bibimbap, slow-cooked coconut beef cheeks with pumpkin puree and wonton chips. And if you happen to be there on a Monday night, they sling $ 1 dumplings.
Ruby G's Canteen And Bakery
Got a sweet tooth? Then you'll love it Ruby G's and their delicious morsels of sweet dough. Nestled in Coconut Grove and on Mitchell Street in the CBD, this bakery and canteen creates sweet pastries that Darwin locals can't get enough of. Think: oozing nutella filled cruffins, flaky almond croissants and lemon meringue donuts. Hot tip: you can't go past their olive sourdough either.
Char Restaurant
If you like your restaurant settings fancy, then book yourself a table at Char Restaurant. Located in the pretty Admiralty House building, you can throw back fresh oysters and champagne, followed by truffled mushroom risotto and crab linguini. Carnivores will be salivating for their huge selection of steaks including tomahawk, t-bone, sirloin and eye fillet.
Hanuman
A much-loved local fave, you'll take your tastebuds on a journey to South East Asia when dining at Hanuman. With a slew of awards under its belt, you'll drool over their malaysian fish curry and eggplant pachadi. And while lunch and dinner is amazing, we highly recommend you book in for their epic Sunday brunch featuring south Indian egg dosa and duck laksa.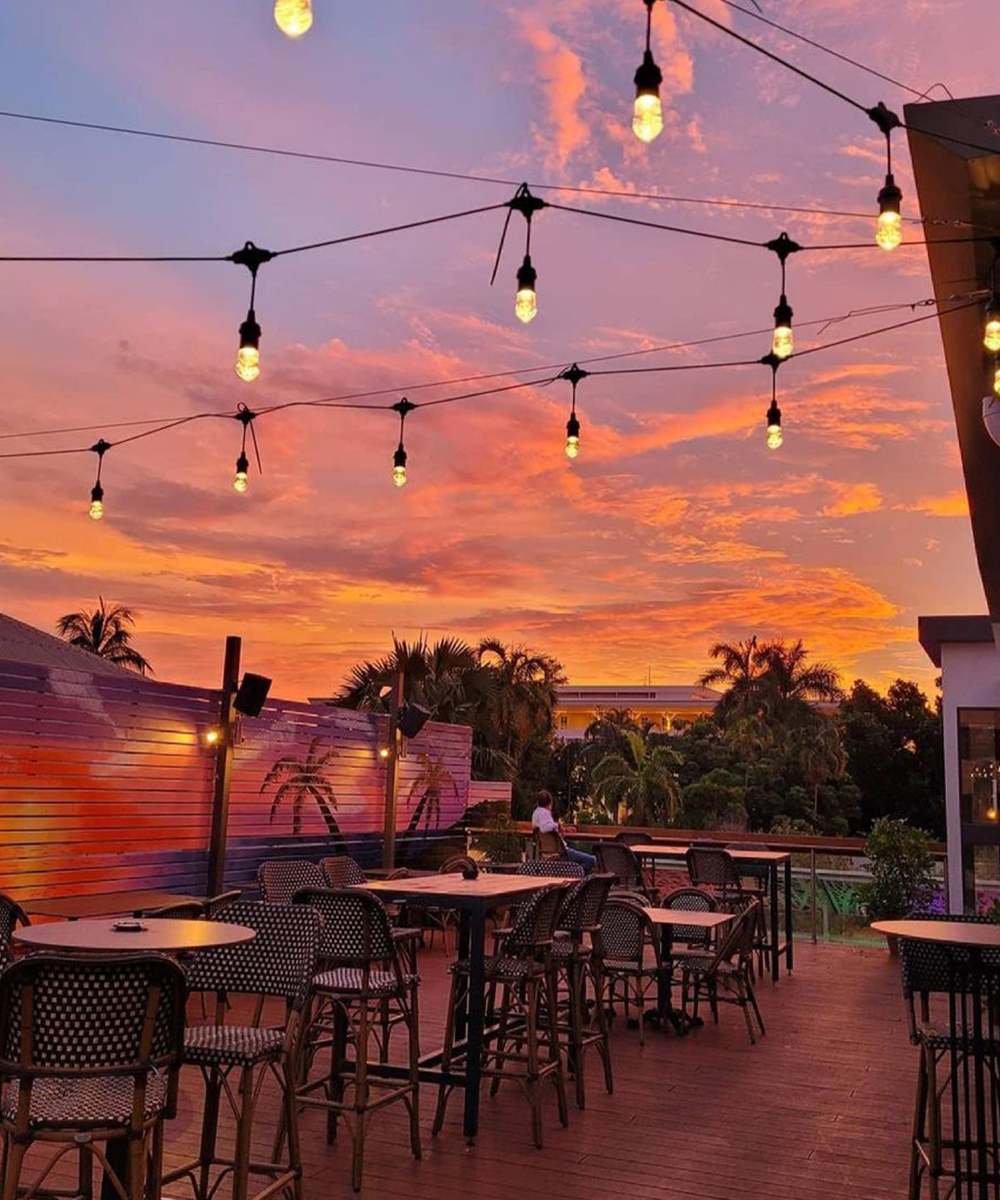 Smith Street Social
If you want to catch Darwin's always glorious sunset then head to the rooftop of Smith Street Social. With live entertainment, and a lengthy cocktail menu, this place is always vibing. Best of all you can fill your tum with their pub classics and share plates. Think cured kingfish tacos, stone-baked pizzas and juicy steaks.
The Best Darwin Accomodation
Oaks Darwin Elan
If you want to do all of the above (and you really do) we recommend basing yourself in the center of town at the Oaks Darwin Elan. Rooms come equipped with full kitchens, lounges, sprawling balconies that offer those glorious sunset beach views, while the restaurant on site does an excellent brekky spread. A short stroll to the waterfront and stumbling distance from the best restaurants, this is a solid set up for your first trip to Darwin and beyond.
Top End Safari Camp
For a bit of a 'pinch me' moment, carve out a few days to spend at Top End Safari Camp. Owned and operated by local hero Matt Wright, this gem is located in the Peninsular Way region, north west of Litchfield National Park (about a 1.5 hour drive from Darwin). Every night you'll rest your head every night in deluxe Lotus Belle tents — of which there are only 10, so you can say see ya later to the crowds. There's also a sky deck, fire pit and pool on site plus you have access to a bunch of incredible tours like croc feeding, helicopter tours and boat rides along the billabong.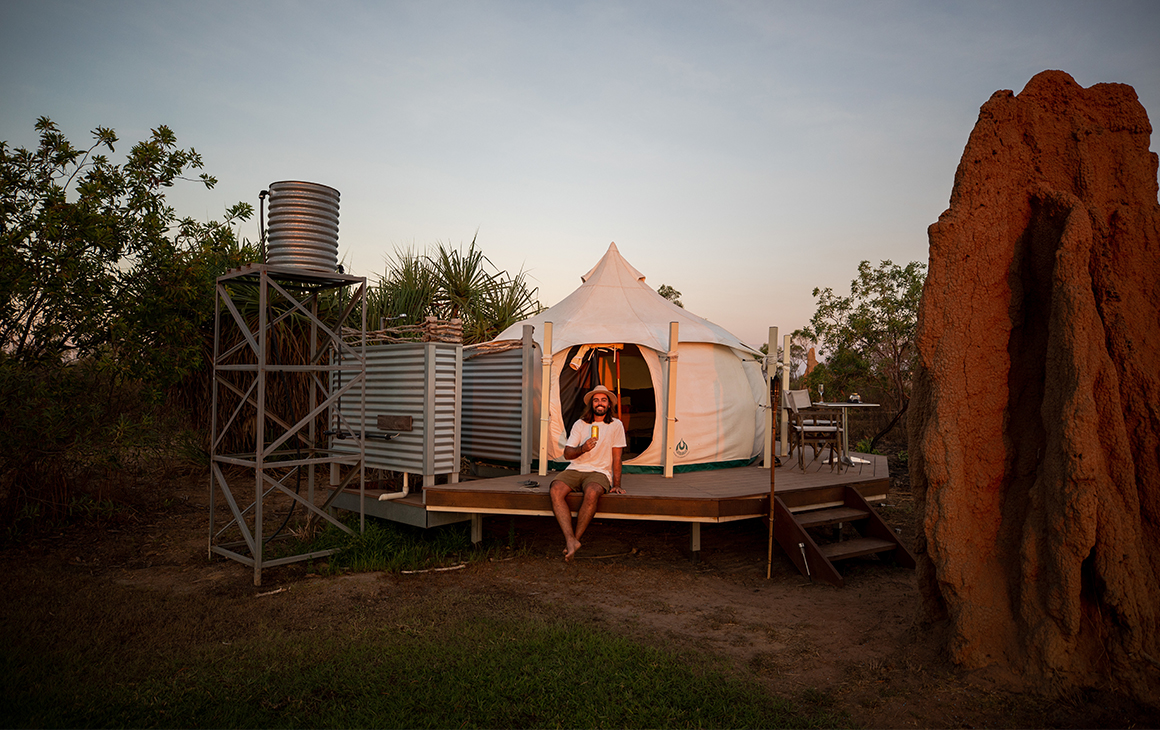 Hideaway Litchfield
Just 7km from the beautiful Wangi Falls and a 90-minute drive from Darwin CBD, lies Hideaway Litchfield. The private, luxury cabins are set in tranquil native bushland and will allow you to zen from the rest of the world and bask in our stunning backyard thanks to the floor-to-ceiling glass windows. There's a private kitchen and outdoor deck too so you just need to bring the wine and cheese.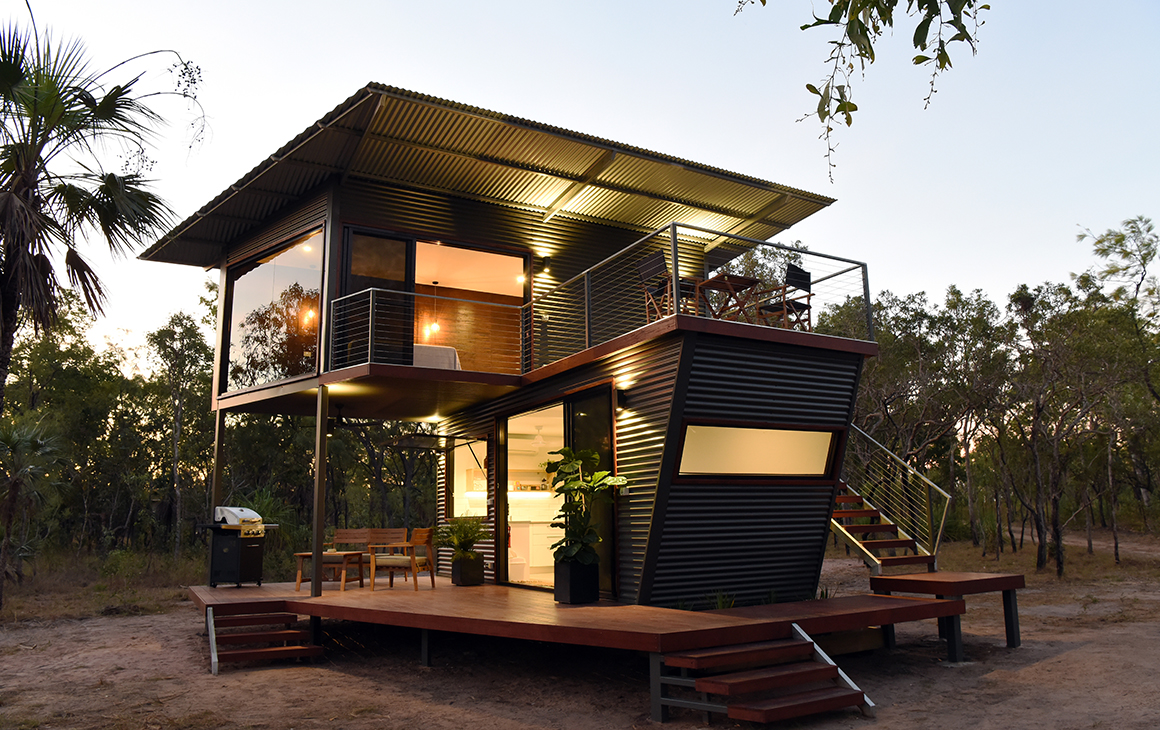 Mindil Beach Casino Resort
Does an ideal holiday involve you sipping poolside cocktails? If you're nodding (us too), then check into Mindil Beach Casino Resort. Nestled on the waterfront, you'll enjoy stunning views of Darwin from their huge pool — tropical cocktail in hand. There's of course a casino on site and a bunch of tasty restaurants so you bring on all of the holiday vibes in lush surroundings.
Next up, try this epic Alice Springs to Uluru roadtrip.
Image Credit: Tourism NT / Mark Fitzpatrick / Nick Pincott / Matt Cherubino, Phat Mango, Smith Street Social