A 72-year-old man has survived cardiac arrest on a bush hike in Central Australia on Thursday thanks to his tour guide bringing a defibrillator along the walk.
Key points:
Ormiston Gorge is one of the most popular walks in the Red Center
The man's tour group administered first aid in the gorge
He is recovering in hospital
The man collapsed about lunchtime on Thursday at Ormiston Gorge, a popular destination 130 miles west of Alice Springs, on a guided tour.
St John Ambulance NT operations manager Craig Garraway said the man was immediately assisted by his tour group.
"Luckily tour the tour guide was an ex-paramedic and the tour guide was actually carrying a defibrillator," he said.
"They started CPR and defibrillated [him].
"The actual tour guide started CPR with the people on that tour… and I believe got [him] back very quickly to a situation where [he] was reasonably stable. "
Text book retrieval in complex situation
Andrew Thomas, the director of ambulance services with St John NT, was part of the team that was deployed to the scene and hiked about three miles to reach the patient.
"I think we're all quite shocked and a bit amazed about how well he seemed after having a cardiac event and cardiac arrest," Mr Thomas said.
"He was fully conscious, in quite good spirits."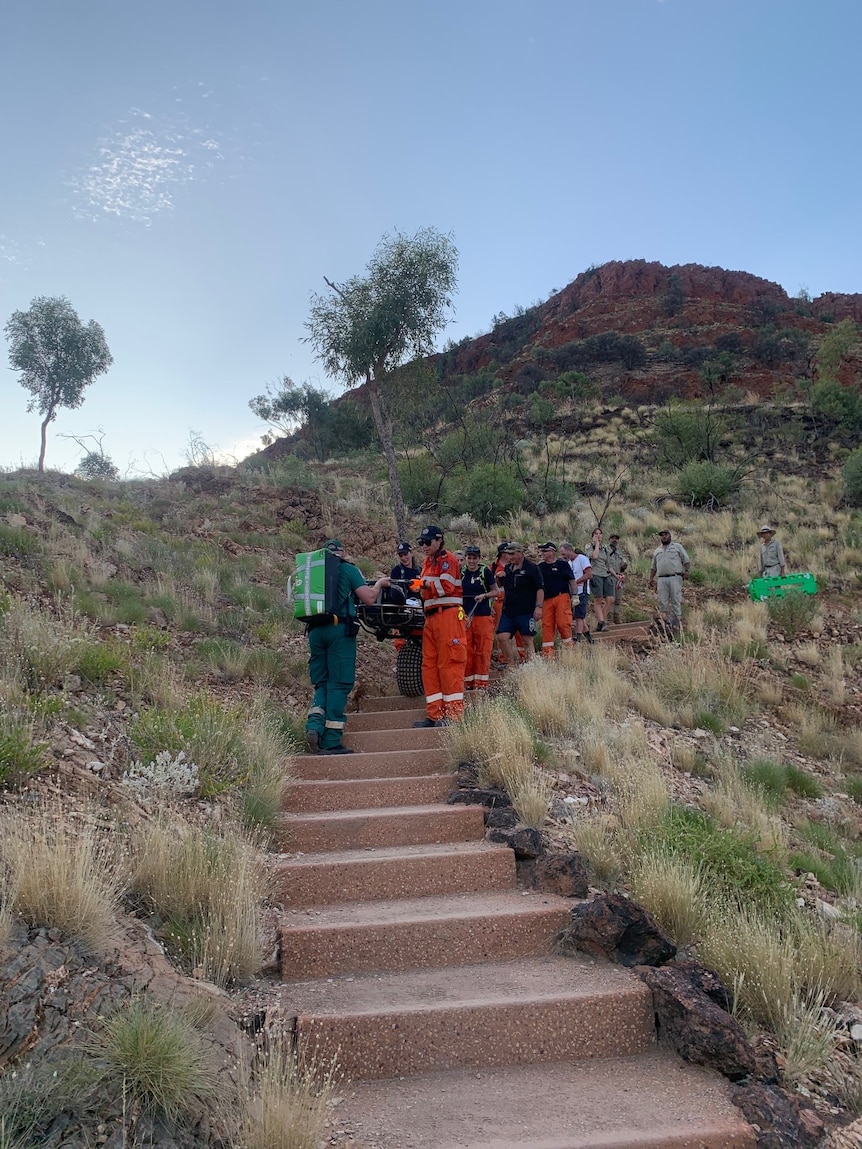 Mr Thomas said the man offered to walk out several times, which was not an option given his condition.
"We were aware of making sure that wasn't going to be the right thing for his health and his recovery," he said.
The 72-year-old man had already finished a deep-water crossing with the assistance of park rangers when the paramedics arrived.
"The water was probably around chest height," Mr Thomas said.
"We did actually consider whether we might use that water [as] rangers have access to boats and kayaks. "
But the decision was made to take the patient out by land.
Mr Thomas said NT Emergency Services provided a stretcher to get the man to the waiting ambulance.
"It's basically a big wire and metal stretcher which has a side and a scoop-type arrangement that we'd loaded him in," he said.
"Once we could get him to a point where the track was a bit wider or a bit more open, they put on a device called a mule… which is really basically like a framework that's got one big tire sitting underneath it," he said .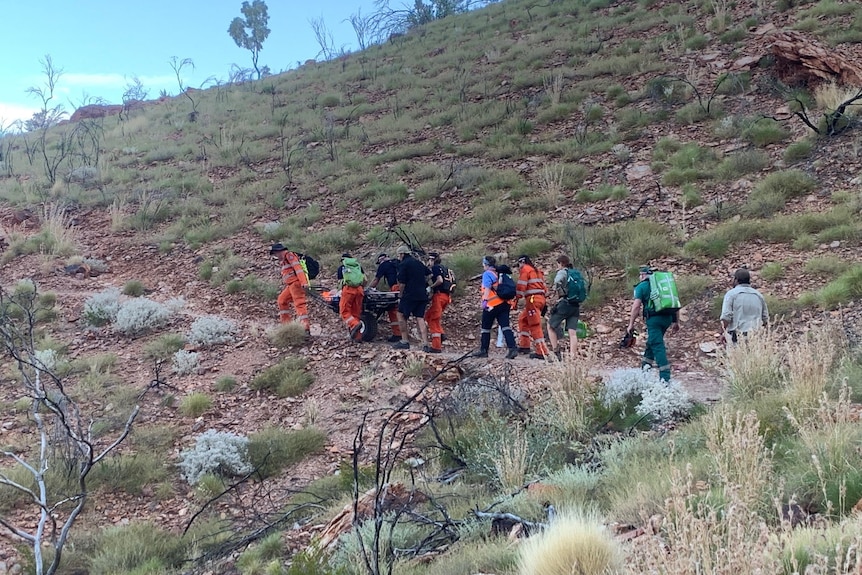 It took the 15-person team an hour and a half to retrieve the patient safely using the stretcher.
Mr Thomas said the whole operation took seven hours to complete, with the crew arriving back at Alice Springs Hospital at about 7:30 p.m.
"He's now thrown flown through to Adelaide for further treatment… so a very lucky person," he said.
Mr Thomas said remote hikers needed to be prepared, which meant having first aid training, first aid equipment and communications gear in case of an emergency.
On Easter weekend, emergency services rescued a man hiking the Larapinta Trail in the West MacDonnell Ranges via helicopter after he activated an emergency locator beacon.
Earlier in April, a 22-year-old man died after he collapsed on the Larapinta Trail.
Posted , updated
.