Water and outdoor adventure go hand in hand. Your body needs to stay hydrated so that you can perform your best outside. If you don't stay hydrated, your physical performance can suffer — especially with intense exercise, like elevation gains while hiking in extreme heat.
According to Healthline.com, your brain is also strongly influenced by your hydration status. When you're dehydrated, your mood, memory and brain performance can be negatively affected. If you want to stay clear headed and strong while you're outdoors, you'll want to drink plenty of water. And "plenty of water" can vary by individual.
For example, Trail and Summit recommends that you drink at least 0.5 liters (or two 8-ounce cups of water) for every hour of hiking in normal conditions, increasing that amount when hiking in warmer temperatures and higher altitudes.
The 0.5-liter recommendation is just a baseline, and the amount of water required to hydrate varies from person to person, so you should adjust according to your needs.
There are a variety of ways to stay hydrated outdoors while camping or hiking local trails or in the backcountry. You can use portable hydration systems and tools to purify water on the go, like a lightweight travel boiling pot, chemical water treatments, pumps and filters. Over time, you can try out various ways to get water while camping and hiking to figure out what works best for you.
Regardless of how you access water while you're camping or hiking, water is plain. Adding flavor to plain water can be a welcome boost of flavor in the backcountry or while sitting around the campfire after a day of adventuring. Having a satisfying drink outside can add a little more enjoyment to your activity.
Here are eight water additives you can mix in your water for added benefits like enhanced flavor, replenishing electrolytes, giving you a boost of energy (caffeine) or providing your body with additional vitamins and nutrients: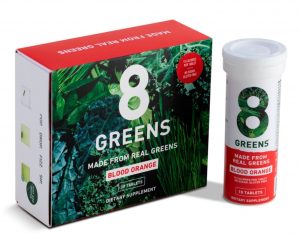 8Greens Effervescent Tablets
If you're looking for a water additive that's nutritious and tastes good, 8Greens tablets are a great option. Each tablet is packed full of vitamins and contains eight different greens: spinach, organic aloe vera (inner leaf), organic wheatgrass, kale, organic barley grass, organic blue green algae, organic spirulina and organic broken cell chlorella. There are several flavors to choose from, including blood orange (my fave), melon and lemon lime.
Dawn Russell, 8Greens' founder, notes on the 8Greens website that "8Greens is not a replacement to a healthy diet, but rather a booster, a green helper."
---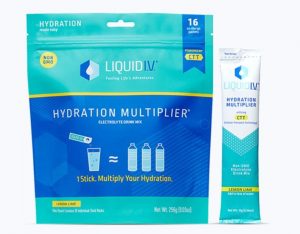 Liquid IV Hydration Multiplier
If you're looking to deliver hydration to your bloodstream faster and more efficiently than water, Liquid IV's Hydration Multiplier is for you. It's an electrolyte drink mix that can provide the same hydration as drinking two 2- to 3-liter bottles of water. It also contains 3 times the electrolytes of traditional sports drinks and has five essential vitamins: Vitamins B3, B5, B6, B12 and Vitamin C.
You can also choose from 12 flavors of Liquid IV, like piña colada, acai berry, strawberry, guava and passion fruit. One stick of this hydration multiplier can flavor 16 ounces of water.
---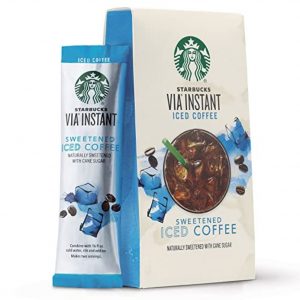 Starbucks Via Instant Sweetened Iced Coffee
If you need your coffee fix in the morning, these Starbucks Vita Instant Ice Coffee powder packs could be a nice addition to your camping or hiking list. It's not a replacement for an exceptional freshly brewed coffee at camp with a French press, but it can do the job when you need a quick boost of caffeine — and love the taste of coffee.
Made with high-quality arabica coffee beans, you simply tear open a packet and add it to cold water. This medium-roast sweetened iced coffee can give you the energy you need to start your day.
---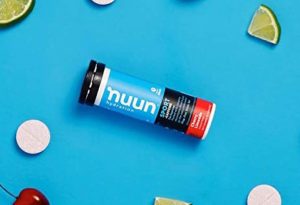 Nuun Hydration Tablets
You can add these Nuun sport tablets to your water for a caffeine boost and electrolytes while you're out hiking. Designed for exercise and on-the-go, you can easily stow away this tube in your backpack. Nuun's fruit punch flavor has a very nice taste, and the tablets will easily dissolve in 16 ounces of water.
Each tablet has 15 calories and contains potassium, magnesium, calcium and more with just 1 gram of sugar. Nuun also offers additional tablet options in addition to the Nuun Sport like Nuun Rest, Nuun Immunity and Nuun Energy.
---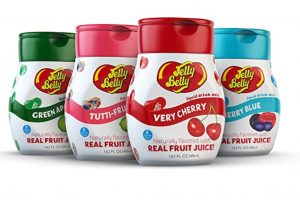 Jelly Belly Liquid Water Enhancement
If you're just looking to add flavor to your water, Jelly Belly's liquid water enhancement will do the job. It's calorie and sugar free and made with real fruit. And, the taste is really good. You can choose from a variety of flavors like green apple, berry blue, island punch and tuitti fruitti.
The small squirt bottle is easy to pack and you can add as much flavor as you'd like. Each bottle makes about 24 eight-ounce drinks, so if you have a larger water bottle, this is a great choice to help you stay hydrated while you enjoy the flavor of your water.
---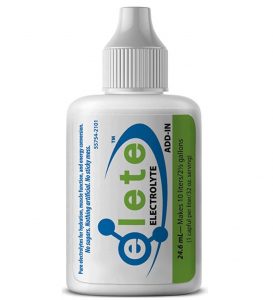 Elete Electroylytes Liquid Add In
If you're not a fan of intense flavor in your water, then Elete Electroylytes liquid add in may be for you. This liquid comes in a compact bottle and makes ten 32-ounce servings of electrolyte water — and tastes like … water. (Note that your water may taste a little salty if you add too much.) Since the liquid is formulated with four essential electrolytes you can use these liquid drops to support hydration, muscle function and your energy conversion and heat tolerance.
---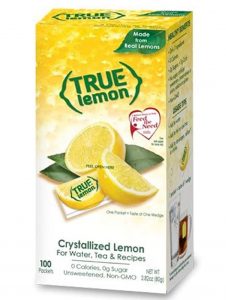 True Lemon Water Enhancing Powder
If you enjoy the refreshing flavor of unsweetened lemon, you may like this True Lemon powder additive in your water. True Lemon is a good packable powdered option that tastes close to having a real lemon slice in your water. The flavor is extracted from real citrus and made to capture the authentic fresh squeezed taste of a lemon.
---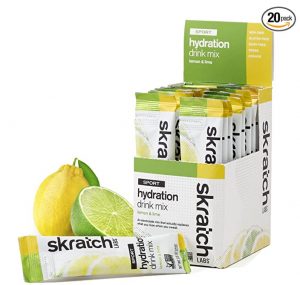 Scratch Labs Sports Hydration Drink Mix
This is the go-to drink mix for many trail endurance athletes, especially runners and mountain bikers. It's intended to replace electrolytes lost from sweat, without creating an overpowering taste — delivering a wonderful refreshing flavor. It has an optimized ratio of sodium and glucose for fast absorption and energy, but isn't particularly heavy on calories.
Scratch Labs' mixes can be bought as individual packets that can be easily added to water while out on the trail or in 46.5-ounce bags that can be mixed before you set off on adventure.
---
So many others!
While the eight water additives listed above are our favorites, there are many more available. For example:
Mio is a bare-bones water flavorer, the base types focused almost entirely on giving a bit of extra taste to water, rather than being geared towards replacing electrolytes or helping fuel you. That said Mio does have a Sport version of its flavoring line, which does offer electrolyte aid and B vitamins without calories. Mios tend to be readily available in many grocery stores as well as online.
Tailwind is a favorite of the ultra-running community, doing well at electrolyte/hydration capabilities while also giving athletes extra calories (200 per serving) to help fuel their further adventures. As with Scratch Labs' powder, Tailwind is available in single-serve pouches and in bulk for pre-outing mixing.
Suzanne Downing is an outdoor writer and photographer in Montana with an environmental science journalism background. Her work can be found in Outdoors Unlimited, Bugle Magazine, Missoulian, Byline Magazine, Communique, MTPR online, UM Native News, National Wildlife Federation campaigns and more.
We are committed to finding, researching, and recommending the best products. We earn commissions from purchases you make using the retail links in our product reviews. Learn more about how this works.