Munni Begum / Guwahati
Albert Einstein once said, "Life is like riding a bicycle, you just have to keep moving to keep the balance." This has been proven right by cyclist Tanveer Firdous Hussain, a resident of the Goalpara district of Assam. He has crossed several hurdles to ink his name in the Assam Book of Records and the India Book of Records for cycling.
"I love sports and cycling. I started cycling when I was seven years old. I had a dream of setting a record by cycling. But my mother and father did not support me. Like other parents, they insisted that I pay more attention to my studies. My parents didn't like me playing sports. They wanted me to study and have a good career," Tanveer has told Awaz-The Voice.
Tanveer, son of Sabibor Hussain and Laila Muskura Begum, was interested in athletics from his very childhood. While in school, he won a prize for finishing 100 meters in 11:35 minutes in a State-level competition. However, Tanveer failed in the district-level race competition. This harmed Tanveer's studies. Tanveer got another opportunity from Khelo India but lost it due to a lack of support from his father.
Tanveer Fidous Hussain planting trees during his cycling expedition
"My father admitted me to a hostel to focus on my studies. But I left the hostel after staying there for a few days. Then, my father was very angry and completely stopped me from leaving home to play sports. One day I thought of setting a new record by cycling, but I didn't tell my parents about it.
One fine morning in 2021, I left home alone on my bicycle and started riding from Alsalam Hospital in Goalpara at 5 am and reached my destination at Solace Nursing Home premises at 6.55 am. I cycled 3.92 km in about 1 hour 55 minutes for which I could include my name in the Assam Book of Records," Tanveer said.
In the same year, Tanveer also inked his name in the India Book of Records for cycling. "In November 2021, I started my cycling journey from Naranarayan Setu (bridge) in Goalpara at 4 am and crossed 129 km to Barpeta in 6 hours and 10 minutes without holding the handlebars. That journey helped me enter my name in the India Book of Records," he said.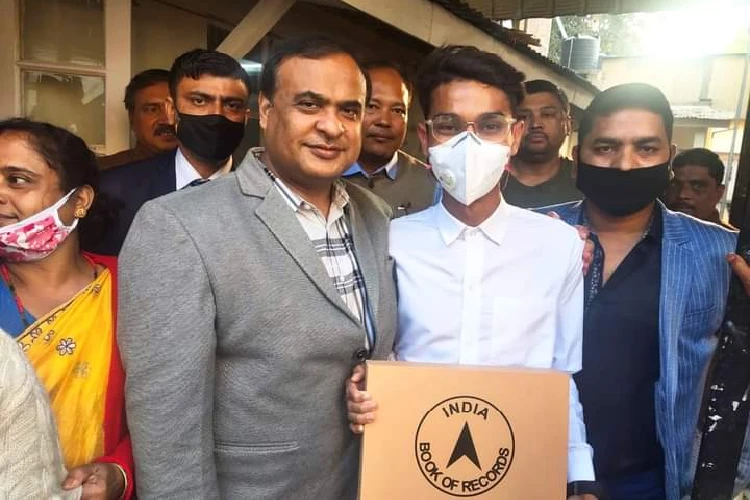 Tanveer Hussain with Chief Minister Himanta Biswa Sarma
After winning the Assam Book of Records and India Book of Records titles, Tanveer has been cycling and studying well. Recently, Tanveer started a tireless journey by cycling under the banner of 'pedal for exigency' to protect the green environment and protect the earth.
"I started my cycling journey under the banner of 'pedal for exigency' to protect the environment and the earth. I cycled for 60 consecutive days. I cycled 15 km daily and planted one tree. I planted more than 200 trees in different districts. I want to encourage people to do their daily activities by using cycle," Tanveer said.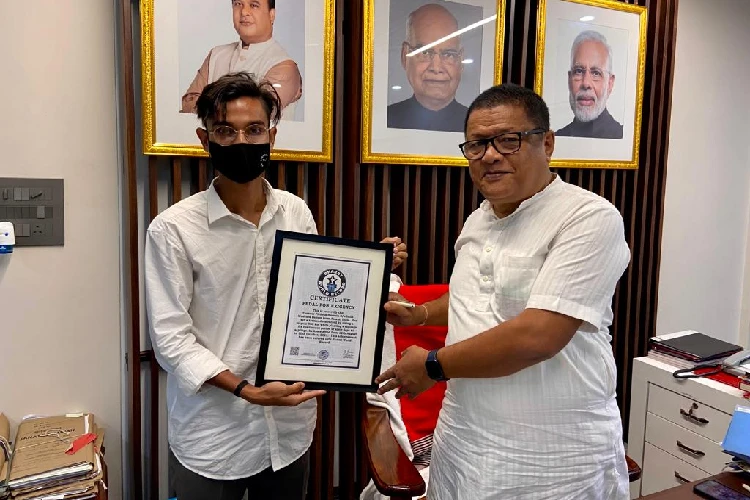 Tanveer Hussain receiving the certificate for his record
Nowadays, the use of bicycles has declined. People go out with petrol and diesel-powered two-wheelers and four-wheelers for any purpose. This causes massive pollution, which threatens the environment, he added.
ALSO READ : Hazratbal shrine with holy relic has a tumultuous history
"I am trying to convince people to maintain cleanliness and balance in the environment by using bicycles instead of petrol-diesel vehicles. If petrol or diesel vehicles get caught in a traffic snarl, carbon monoxide is released from such cars which causes a risk of cancer in our bodies. On the other hand, cycling increases blood circulation in our body, increases IQ level, and boosts our immune system," Tanveer said.
.