The art of doing yoga asanas, as one normally perceives it, is only to enhance the mind, body and spirit. However, for some, it is not uncommon for yoga to be seen as a competitive sport, with many yoga asana tournaments taking place every year, especially in our country. Although yoga sport is not as recognized as a 'sport' in the world like gymnastics when something becomes competitive, it's always going to draw more attention.
So, when did yoga become a competitive sport? According to the official website of the International Federation of Yoga Sports, world or international Yoga competitions in its current form began about 22 years ago with the father of World Yoga Championships and International Yoga Sports Movement, Swami Maitreyananda otherwise known as Yogacharya Dr. Fernando Estévez – Griego.
Let's take a closer look at the structure of yoga tournaments. Like Athletics, they generally have different categories of events. The differentiation of categories is based mainly on different age groups and gender. However, there are also special categories for the differently-abled and yoga teachers.
In the event, the participants are required to do five asanas in front of the judges, which will then be evaluated to finally declare the winner. In the beginning, the participants doing the most advanced asanas used to get the top places, which received a reasonable amount of criticism from yoga trainers arguing that body conditions are different for everyone and hence judging should not be based on the difficulty of the asana. After much hue and cry about the fairness of it, several new rules have been brought in by the International Federation of Yoga Sports.
A fair judging technique
The participants are now given a syllabus consisting of exactly five asanas which are assigned taking into consideration, the body conditions of people belonging to each category. All the participants are required to do only the asanas that are assigned to them, thereby instituting a level of fairness.
The performance of the participants is assessed based on the time of maintaining the pose, the manner of sustaining the pose and the method of release from the pose. The participants train themselves in doing only these specific yoga asanas in as perfect a way as possible. This not only enhances the quality of performance of the asanas but also promotes their importance.
There's absolutely no doubt that yoga competitions are promoting yoga, especially among youngsters and children. "I enjoy going to yoga tournaments. It is always amazing to see so many people doing some incredibly tough asanas. It inspires me to learn and do even more asanas and do it better too." says M. Sri Devi, a class VIII student, who has won five yoga tournaments in the past two years.
However, with the core concept of yoga being enhancement of one's self, there is concern about how competitions can make yoga deviate from this concept and become commercialized instead. KP Gangadharan, an assistant professor at the Institute of Gandhian Studies and Research (IGSR) and yoga coordinator at the Gandhi Museum in Madurai says, "As much as participating in yoga competitions is good, since yoga asanas are practiced and perfected, yoga, by nature is not something to be competitive about. Everyone has a unique body. So, how can we possibly compare? It is no different to judging a fish by its ability to climb a tree."
Proper training is key for children picking up yoga
In schools, more often than not, just to show parents that yoga is being encouraged, students are made to participate in yoga competitions. According to Miss. G. Kanchana, a physical education teacher at a matriculation school, few schools have proper yoga trainers. Most of the time, especially in government schools, it is the Physical Education teachers who tend to train students in yoga.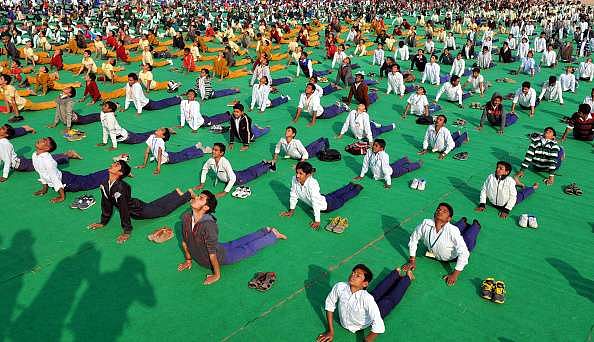 .