Since the 1970s when disc golf was first formalized, it has steadily increased in popularity. Today, the Professional Disc Golf Association (PDGA) sanctions over 3,500 events annually and has an active membership base of more than 80,000 competitive disc golfers from 47 nations around the world.
But when Andy Oldham's brother Ryan introduced him to disc golf, Oldham realized there was more to it than competition. It was a fun sport that could be enjoyed by all ages. The Ragsdale High School band director began to wonder if the sport could be used at his school to get students outside in the fresh air and woods.
Oldham, along with fellow teachers Erik Cobb and Karl Rahn, checked out the wooded area behind Ragsdale and felt it could be a good place for a disc golf course.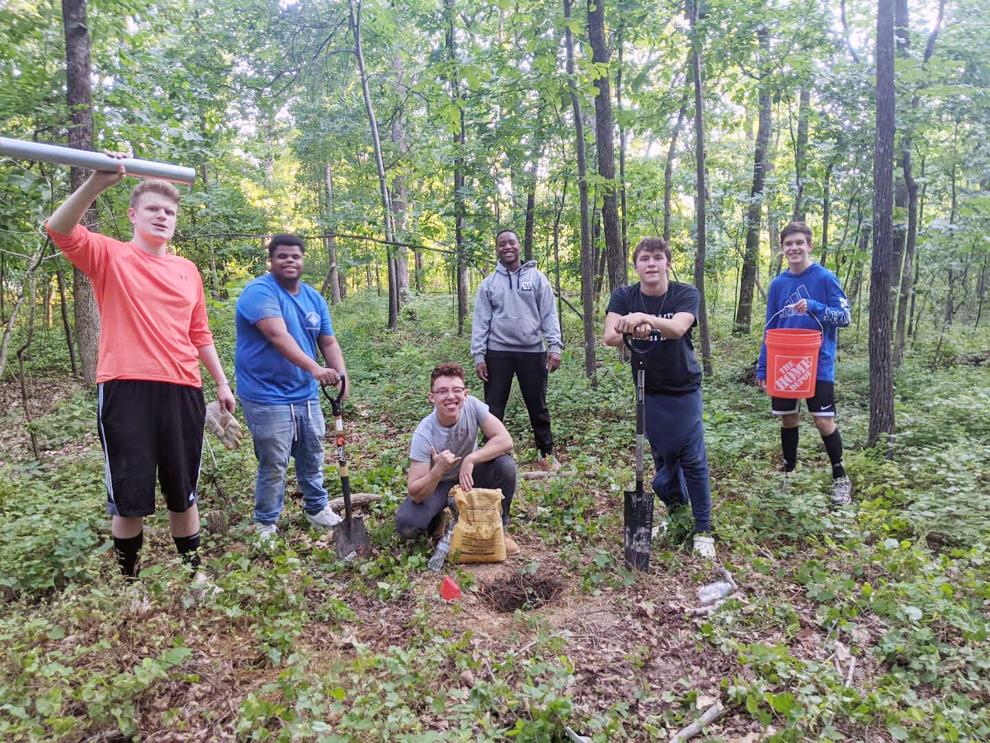 "The men encouraged me to make one and when I talked to the principal about it he was very supportive," Oldham said.
Although the idea was formulated before Covid, the pandemic solidified Oldham's desire to create the course.
"We were not sure how long that would last and it was safer to be outside," he said. "That helped prompt me to do it. It was made possible with a grant from Little-Reich Athletic Grants, school funds and private donations."
Oldham walked the trails through the woods numerous times to get a feel for how the course could be laid out and Tim Spurgeon with the High Point Parks and Rec Department also checked it and offered design ideas.
In December 2020, Oldham began clearing the trails with a chain saw and hand saw. But it was not until May 2021 that the disc baskets were installed.
"Guilford County Schools had sent workers with augers to drill holes for the baskets but the day we planned to install them we realized the holes weren't deep enough," Oldham said. "About 10 students and parents helped dig the holes deeper and carry cement to stabilize the baskets. Their help was outstanding.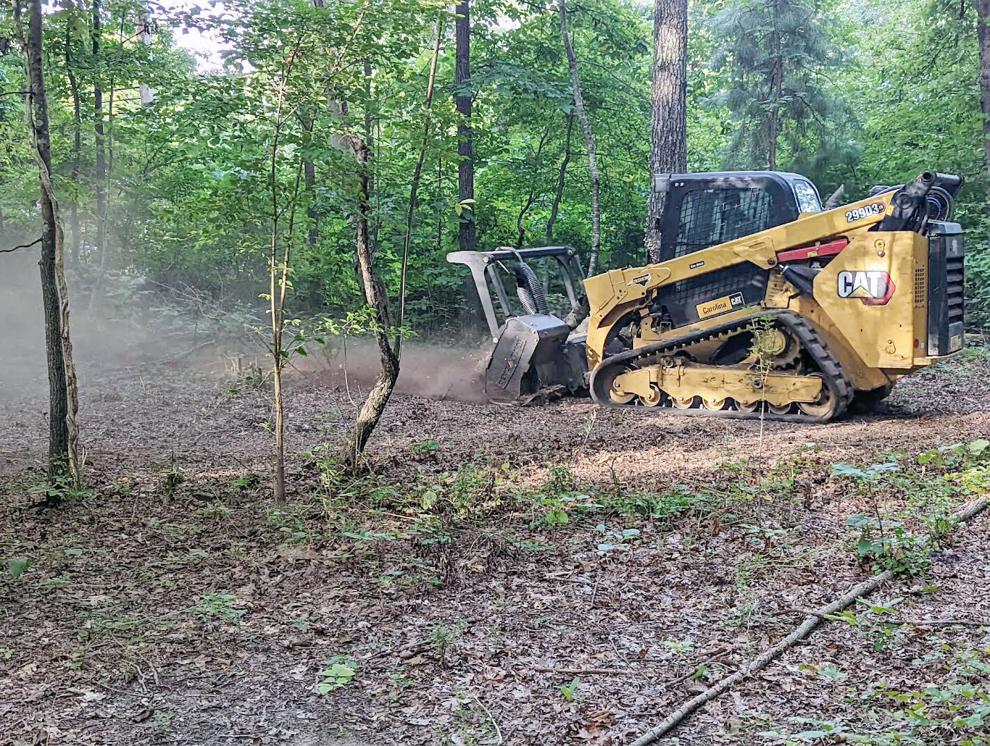 "Once the baskets were installed, I kept seeing tripping hazards from stumps left where I had cut trees. After I contacted several companies about removing them, Matt Robertson, owner of SDJ Land Management Company was so excited about the project he donated his time and equipment to remove the stumps. It left a nice mulch and beautiful trail."
Even before the stumps were taken down, kids were trying out the course. This year, Oldham plans to start the first official Disc Golf Club at Ragsdale.
"This is nice for students who want to participate in a sport, but not be on a team with a coach," he said. "Like regular golf you can play your own game and compare your individual scores to gauge your improvement."
A disc golf hole begins from a tee area and ends at a target, usually, as in the case of the course at Ragsdale, an elevated metal basket. As players progress down the fairway, they must make each consecutive throw from the spot where the previous throw landed. The object is to get the lowest possible score.
The 18-basket course at Ragsdale is considered a short pitch and putt course. It has five or six trails that curve to the right and five or six that curve to the left and some that go straight.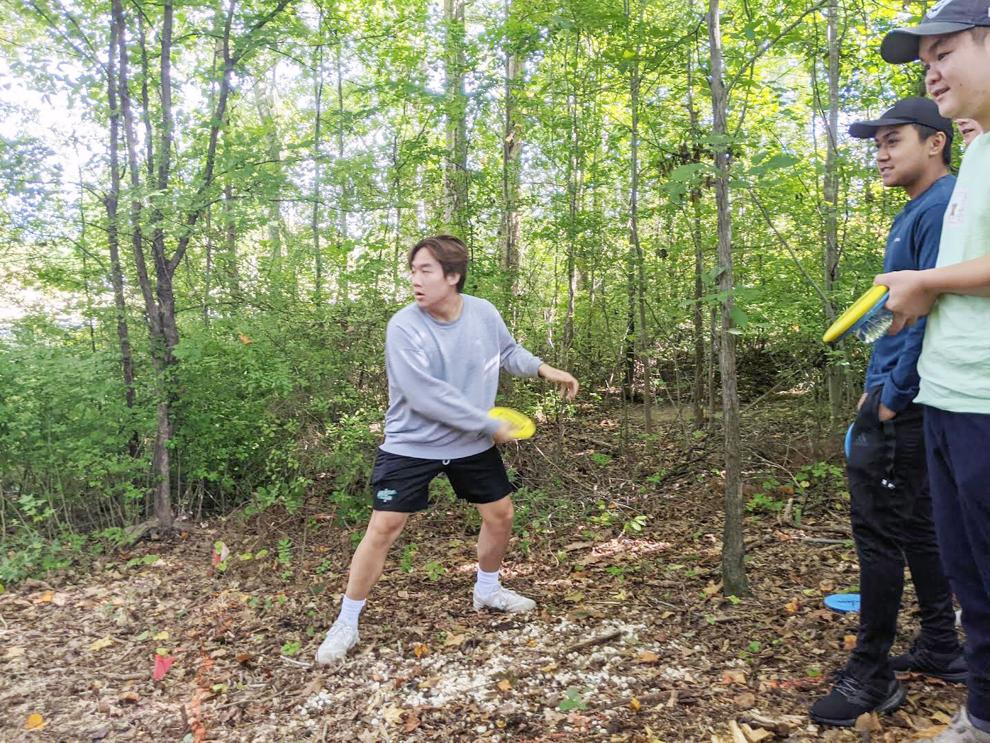 When Oldham's brother found out he was creating a disc golf course at his school, he contacted disc golf manufacturers for donations of the special discs used for the sport. West Plaza Tomato Company and Dynamic Discs both donated a variety of discs to the school including the three primary types: putter, mid-range and high-speed drivers. John Marshall designed stickers representing Ragsdale, which Ryan and his family carefully placed on the bottom of each disc.
The golf disc is like a Frisbee in principle but smaller in diameter, depth and weight distribution. The edge design allows it to cut through the air more efficiently. Because the disc travels faster and farther than a regular Frisbee, it is more difficult to control. Participants soon learn which disc they prefer to use.
"Students may buy their own discs or use what we have," Oldham said. "The goal for our club is to meet once a week to practice and improve our skills."
The Ragsdale Disc Golf Course is included on the map of disc golf courses listed on the UDisc website and is open to the public. Because it is on school property, there are restricted times the course may not be used.
"I see this as being great for Jamestown," Oldham said. "People can come to play and go into town to eat or shop. A lot of people play disc golf as a hobby. We had some people from Charlotte come who were playing as many courses as they could find. Others have come from throughout the Triad area.
"The best thing about disc golf is the opportunity to have fun and be outside."
.