Our pick
Superfeet Green
This firm insole fits in a large range of shoes and best combines the features of support and cushion.
Buying Options
*At the time of publishing, the price was $37.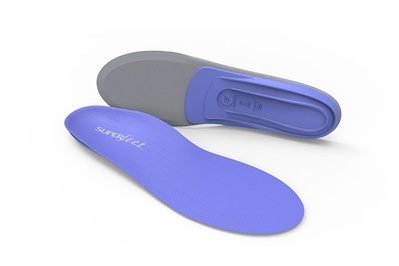 Superfeet Blueberry
Contoured to better fit the feet of most women, the Superfeet Blueberry provides comfortable support in a large number of shoe styles.
Our pick for best support insole for most men, the Superfeet Green, is able to find the right balance between support and cushion, provides a comfortable fit, and is versatile enough to be the right choice for a large number of different shoe styles and activities . It's more expensive than some competitors, but for the features and value it provides we feel it's well worth the additional cost.
Women's feet are not simply scaled-down versions of men's feet, and our pick, the Superfeet Blueberry, is more than just a "pink" version of our men's pick. Men's and women's feet differ in a number of shape characteristics, and several companies design and manufacture women's-specific insoles. The Blueberry's plastic arch design provides a firm platform of support, and the open-celled foam cushioning provides comfort. Providing both of these is a delicate balance, which Blueberry pulls off better than its competitors.
Upgrade pick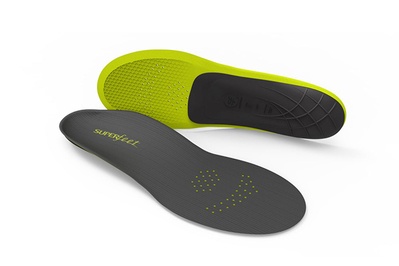 Superfeet Carbon
If you prefer a slimmer, lighter, and firmer insole that fits in a larger number of shoes, the Superfeet Carbon is worth the extra cost.
Materials can make a big impact on the size and weight of a support insole. For those looking for a thinner, lighter-weight alternative to our top pick, we recommend the Superfeet Carbon. The Carbon's design allows it to more easily fit in a wider variety of shoes compared to the Superfeet Green. In addition, an upgrade of the Green's top cover and arch support materials allow the Carbon to be lighter and more breathable without compromising comfort or support.
Budget pick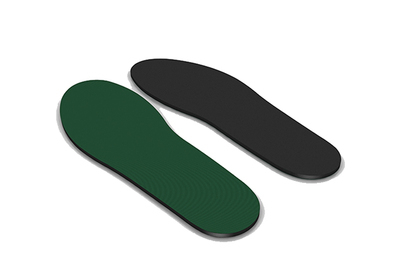 Spenco Comfort Insole
If you prefer a softer feel than your standard sock liner, Spenco Comfort Insoles provide some additional cushion at an affordable price.
Buying Options
*At the time of publishing, the price was $10.
Although some people desire a firm and supportive fit from an insole, it isn't for everyone. For those who want an affordable, cushioned sock-liner replacement, the Spenco Comfort Insole is our pick. Cushioned insoles are specifically for adding comfort to your running or walking experience, because the majority of shock absorption actually comes from the design of the shoe. These do the job as well as near-identical models twice the price.
Also great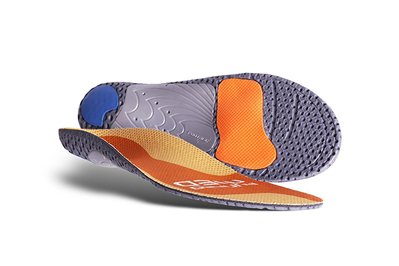 CurrexSole RunPro
These are a good choice for active people if you prefer a more form-fitting insole with better ventilation. This is the medium arch profile model, but you can also get a high or low arch profile insole.
Although most runners will be just fine with the sock liners that come standard with shoes, there are more form-fitting, cushioned, and breathable insole options. They won't help you make the next Olympic team, but the CurrexSole RunPro (offered in high, medium, and low arch profiles) will improve the comfort and fit of shoes for some runners. The RunPro is more breathable than most sock liners and features a deep heel cup that helps collect your foot's natural cushioning, the plantar fat pad. You can determine your foot arch profile at CurrexSole's website to select the RunPro model that's right for you.
Also great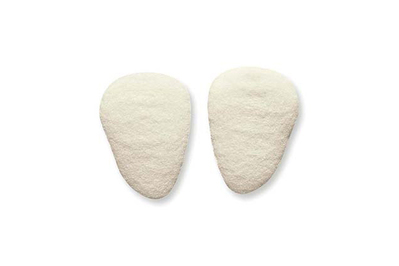 Hapad Metatarsal Pad
Don't let their simple felt and adhesive design fool you—these can bring significant relief to people suffering with forefoot discomfort.
Buying Options
*At the time of publishing, the price was $6.
The Hapad Metatarsal Pad isn't an insole, but a pad placed inside a shoe to help reduce forefoot discomfort. Don't let its simple felt and adhesive design fool you—a pair of these can bring significant relief to people suffering with forefoot pain by offloading and reducing pressure under the troublesome spots. The Hapad Metatarsal Pad has an adhesive backing, so unlike other pads or insoles, you can place a Hapad Metatarsal Pad in a spot under the foot that works best for you.